Guide to Chinese New Year~ Tangerines, Mandarins, Dragon Eggs & Kumquats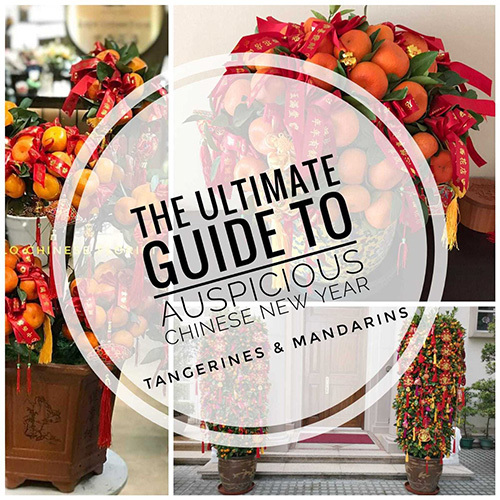 Why These fruits? What it means?
The Chinese word for these "baby oranges" is "Gut" (桔) which puns on luck, so the more fruits the better! Plants can also be placed near doorways especially popular for large commercial buildings and banks, to ensure you bring in good luck each time you step in.
Different Varieties
The most common ones are "Say Kwai Gut" (四季桔) small round light orange Mandarins, which translates to "All-seasons-luck", hence the popularity.
Other less common varieties including Dragon Egg (龍蛋/龍膽) and Kamquat (金桔).
Traditionally, after New Year, these 3 varieties are made into salted preserved fruits that are used as remedies for sore throat and hearty drinks.
Do you know there is a special type of tangerines intended to get moldy easier to symbolize bringing fortune?
A more golden orange color and bigger varieties call "Chu-Sa-Gut" (朱砂桔). These bigger fruits are must haves for certain provinces in China as they tend to get moldy quicker~ to pun on "Get rich" (發). So if you follow the old customs, the more moldy the better!
How to keep the plant?
The fruit tree loves water! Water everyday or at least every other day. A 30 cm pot can take 1-2 cups of water daily depending on where you place it~ as the plant is grown in soil with less water retention water seeps out fast each time. Curled up and crispy leaves before CNY is a sign of insufficient water intake.
Our Range of Tangerines and Mandarins can be purchased here: https://www.anglochinese.com/pages/tangerines–mandarins
農曆新年指南〜四季桔,朱砂桔,龍蛋和金桔
象徵意義和品種
桔代表 "好運氣"(吉), 所以放桔當然是果越多越大就越好!一般將桔作為大門口佈置,特別是大型商業建築和銀行,代表每次踏進去時都能帶入好運。
最常見的是圓形小桔"四季桔",代表"四季好運氣",也因此很受歡迎。其他較不常見的品種包括龍蛋/龍膽和金桔。傳統上,在新年之後,更會將這3個品種醃製,用作治咽喉痛飲料。
您知道嗎?有一種特定的桔,特別易發霉以象徵更容易發財?
"硃砂桔"~這些較大較深橙的桔是中國某些省份必不可少的新年擺設,因為它們往往發霉更快,以"大發特發"為佳,傳統老一輩做生意的尤其喜歡。
如何保養桔?
桔樹愛水!每天或至少每隔一天澆水。一個30厘米直徑的花盆每天可吸取1-2杯水,具體取決於您放置的位置〜由於該植物生長的土壤保水能力較低,每次滲出水的速度很快。如果農曆新年前葉子已捲起或變脆,表明桔樹吸水量不足。
可以在這裡購買四季桔,朱砂桔,龍蛋和金桔: